New Aerospace Industry Tools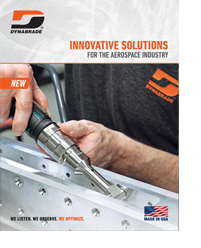 Dynabrade introduces new tools for the Aerospace industry. Dynabrade air tools have been utilized in the aerospace industry since the original Dynafile® deburred its first turbine blade 50 years ago. Since then the role Dynabrade tools play in the construction or refinish of an aircraft has grown to where our tools can be utilized in every step of the process. Our mission at Dynabrade is to provide tools that enhance productivity, efficiency, and safety of tool operators. Beyond being as productive as possible the goal is to be at the forefront of innovation, as solutions providers, for industries facing challenging production, assembly or finishing applications.
View Brochure
---
Aerospace Industry Applications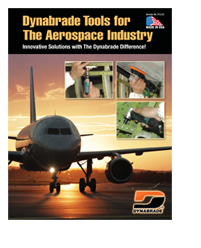 Dynabrade Inc., presents an incredible variety of pneumatic tools for use in the aerospace industry. Providing countless application solutions, these top-quality tools reduce production time as they improve your final product! At every workstation in your facility, there is a need to "Discover the Dynabrade Difference."
View Brochure
---
Rivet Removal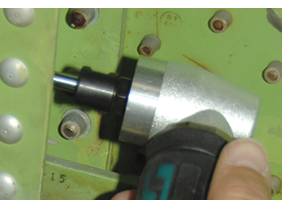 Every aircraft technician must have a Dynabrade Die Grinder! Models offered in angle-head, straight-line, 7° offset and right angle configurations, which each include 1/4" and 6 mm collets. Air motors are available of .4 hp, .5 hp, .7 hp and 1 hp. These tools may be utilized for grinding rivets heads and backs, Deburring on honeycomb ring, refurbishing of inner fan case, blending parting lines on cast turbine blades, removal of machine blemishes and more!
---
Cutting & Trimming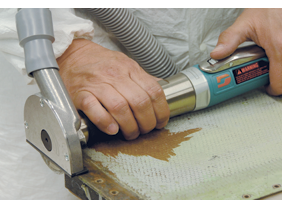 Dynabrade Cut-Off Wheel Tools are utilized to trim, shape and cut honeycomb for composite panels and on other materials. They are also utilized for cutting out corrosion repair in fuselage skins. Available in many motors, speeds and configurations, in non-vacuum and vacuum models (shown).
---
Remove Adhesives and Decals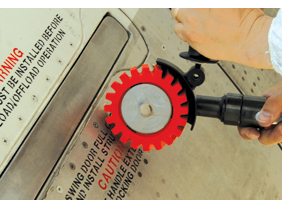 Dynabrade's Surface Preparation Tools are offered in straight-line, right angle and pistol grip configurations. Our unique RED-TRED® Eraser Wheel has serrations for improved cooling and air flow which reduces distortion from heat.