Best-In Class Sales Support Training & Demonstrations
Dynabrade has successfully taken on the role of leading the industry in training distributors and end users. We offer a variety of options for customers to familiarize themselves with Dynabrade as a company, the premium abrasive power tools we offer, and how we are a systems and solutions provider. We are looking far beyond the tool and focusing in on improving work conditions for the operator. Whether customers want to visit our facility or get trained on the road, we are sure to have a training solution.
Training Videos
---
New Training Facilities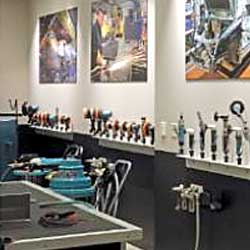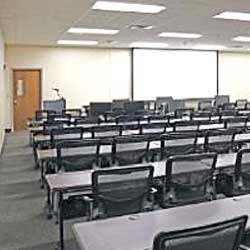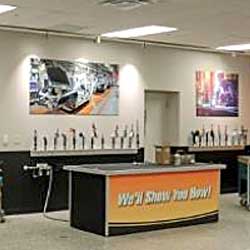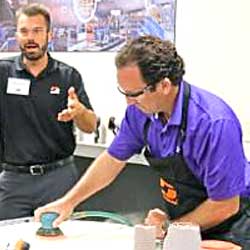 Dynabrade has a couple of newly remodeled training facilities within their worldwide headquarters – just outside of Buffalo, New York. Our Knowledge Center, is a formal conference room/theater surrounded by large pictures of the industries we sell to. This room can comfortably fit over one hundred people.
With all the latest in electronic presentation technology, this room is perfect for hosting any classroom style training. In addition, we also have the newly remodeled Walter Welsch Training Facility. Named after our founder, this room contains a wide array of the 850 plus Dynabrade tools and source capture options we offer. The room is thoroughly equipped with a world-class air system and is set up to allow customers to have the ultimate hands-on experience and see how our product can meet a tremendous amount of real-world applications.
---
Regional Tool Clinics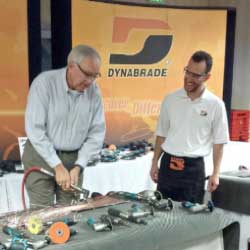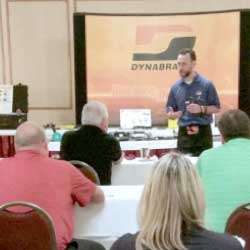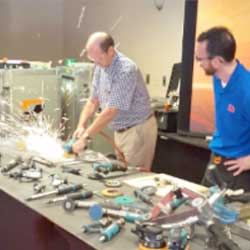 The Dynabrade Corporate Training Team hosts six to eight tool clinics each year in a variety of locations. These tool clinics feature a hands-on approach where customers will be educated on Dynabrade tools and see all that we have to offer. Each tool clinic consists of six to eight sessions, so it is individualized for each group to ensure it is as valuable as possible. Please contact your local Dynabrade Territory Manager for the next time we are in your area.
---